Description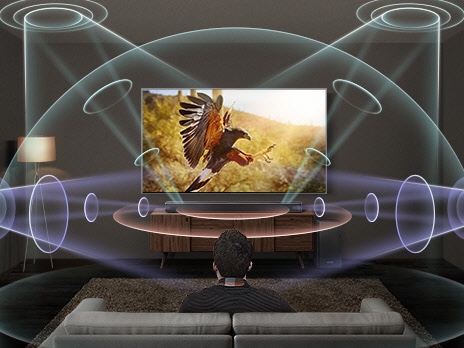 5.1.2ch Sound
Sound moves around you in three dimensions , delivering a full 5.1.2ch audio experience.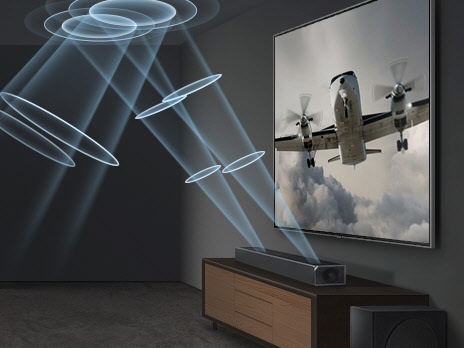 Up-firing speakers
Fires sound powerfully upwards for a deep cinematic experience.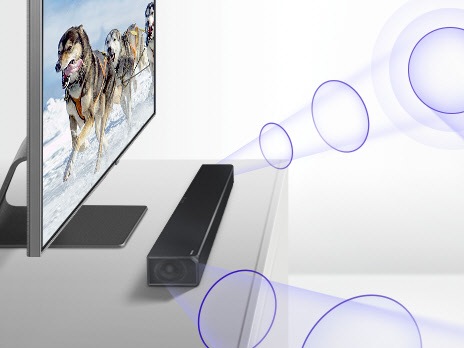 Side-firing speakers
Side-firing speakers surround you with sound from both sides.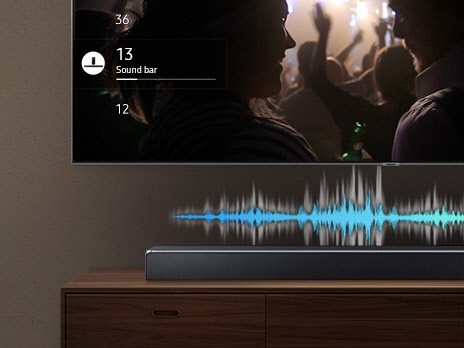 Adaptive Sound
Automatically enhances voice clarity on low volumes.
Sound, Completed by Audio Masters
By combining Samsung's innovative mastery in home entertainment solutions with 65 years of Harmon Kardon's audio technical expertise, the two brands continue to push boundaries to bring state-of-the-art sound to the home entertainment experience.
Hear better. Play better.
Brace yourself for an immersive gaming experience with powerful subwoofers and up-firing speakers that provide incredible surround sound. The soundbar automatically switches to Game Mode when connected to your Samsung TV so you can focus on playing, not setting up.
Sweet spot anywhere you sit
Every spot is the sweet spot. Get consistently amazing sound everywhere in the room with the Soundbar's state-of-the-art wide-range tweeter.
Let the original sound come alive
Transform your music to a detailed and dynamic sound. Upscale any of your music files up to 32bit for richer sound.
Seamless HDR 10+ experience
With 4K pass-through built in, connecting 4K video sources is easy. It even works with HDR 10+ sources, allowing you to enjoy audio with pristine quality matching that of your video. One HDMI connection and you're set.
Music comes alive with your voice
Can't recall the title? Enjoy your Soundbar hands-free using Alexa voice control. Ask Alexa to play something by simply saying the title or a few lines of the song's lyrics. No matter what kind of music you're in the mood for, Alexa will find it.
Wireless music streaming
The Soundbar uses Bluetooth for easy wireless connections to other devices. Enjoy music from your mobile in top audio quality at your convenience, no strings attached.
Wireless surround sound ready
The optional Wireless Surround Kit lets you expand your Soundbar to a surround sound system easily without the mess of wires. Together with your Soundbar, you can create a channel system for a true surround sound experience.
Control with One Remote
You don't need several remotes. For power, volume, and even the sound effects, you can control key Soundbar functions with a Samsung TV remote through TV's UI.
Listen smarter with SmartThings
SmartThings lets you add your speakers to your network, giving you greater control over your audio throughout your smart home. Take connected living to the next level.